Um, I'm not really sure what the hell these things are, but the tot will eat them now, so that's something.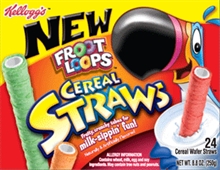 HOORAY!
HOO-fricking-RAY! I think.
Yes, they really work as straws. They're kind of short, though, so you don't want to start munching on them until you're done using it to drink your milk*. If you do, it'll be too short, you'll be out of a straw, and the purpose (assuming it's actually drinking the milk and not acting-like-you-want-milk-so-you-can-eat-the-straw) would be utterly defeated.
*Milk not included.
The tot does not use them to drink milk yet, and that doesn't seem close on the horizon. (That's fine. She can use a regular straw.) However, she will blow through them and look through them, and that kind of food play counts in the success/progression column.
As for texture/food group, I guess they are, well, I think they're, I don't know – mixed texture, for sure. They have a strong Frooot Looop smell, but they all have the same blended Frooot-Looop flavor. The straw is made up of flaky Frooot-Looop-flavored cereal stuff. It is lined with some kind of pressed powdered sugar that keeps the straw from getting soggy in your milk. When you bite into one, you get the immediate sensation of "hard food," followed by "flaky bits breaking," followed by "crunchy bits mixing with softer stuff inside."
It's a strange food.
It took her seeing and playing with an entire box's worth plus two before the tot asked me if she could have the one I was eating. When she hit that last texture sensation, I could see the distress rising in her eyes, so I said, "Crunchy! Crunchy! You have to crunch it!" She resumed chewing and has been fine with them ever since.
Probably if you are not an all-things-Frooot-Looop-addict, you don't need to buy them. If you are on the fence about them at all, don't be talked into getting them. They aren't that great and as far as junk food goes, there are so many better ones out there.