I want you to see the thing that has kept me from blogging. No, it is not a picture of Tater. I'm not allowed to post those here. (Email me if you'd like to take issue with that.)
It is, however, a side effect of Tater. You see, Tater is always ALWAYS eating, thereby rendering me incapable of typing on my keyboard, so I'm left using this: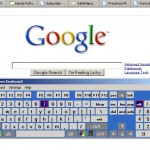 It's called the on-screen keyboard. This entire post was created with it. I "typed" it with no interruptions, and it took 15 minutes. No, I don't have carpal tunnel yet. Yet.